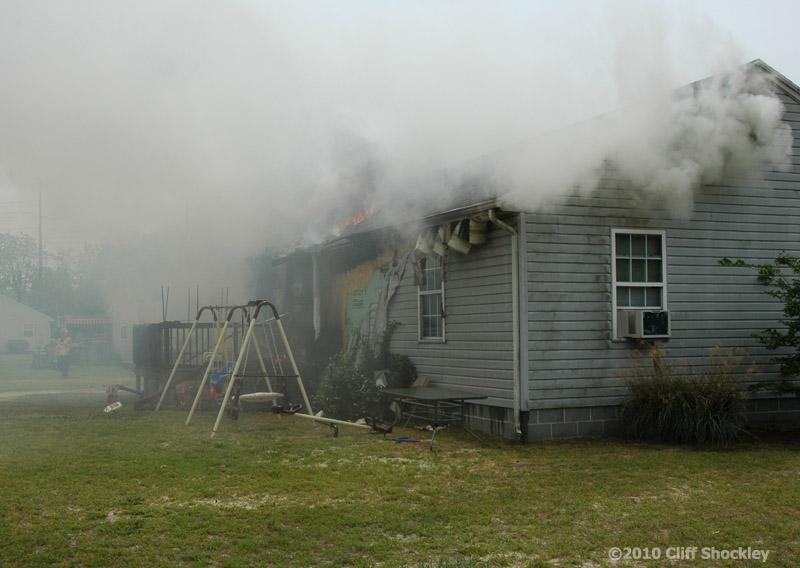 5/4/2010 – The Salisbury Fire Department Stations 16 and 2, along with Delmar Station 74, were alerted for a reported house fire on Wellington Circle off of Jersey Road at 1258 hours Tuesday, May 4th. While en route, Assistant Chief 1, (Gladwell), could see heavy smoke conditions in the distance and thus requested additional resources from Stations 74 (Delmar) and Station 5 (Hebron).
Upon arrival, a working fire was reported with heavy fire and smoke emanating from the "C" side of a single story, wood-frame residential structure. Assistant Chief 1 established Wellington Circle Command and checked with observers to ensure all civilian occupants were out of the structure. Engine 16-1 arrived on scene and was instructed to initially attack the fire from the outside until additional resources could arrive and an interior attack could be mounted.
Upon the arrival of additional engines from Stations 16, 74, and 5, an aggressive interior attack was initiated. Command noted heavy fire in the attic area and instructed crews to attempt to gain access to that area. Crews pulled ceilings and found the access door and affected an effective knockdown of the fire. The fire had self-vented the roof area on the 'C" side and the gable vents on either end were removed by crews to affect further ventilation.
Units from Stations 5 and 74 were instructed to relieve initial attack crews and to perform extensive overhaul. Tankers from both stations also assisted with water supply.
The State Fire Marshal's office was requested to the scene as well as a representative from the Red Cross to assist the family as needed. The fire was controlled in approximately 20 minutes and no civilian or firefighter injuries were reported at the scene. The cause is believed to be an outdoor extension cord.
Photographers BIlly Adkins and Cliff Shockley on Scene