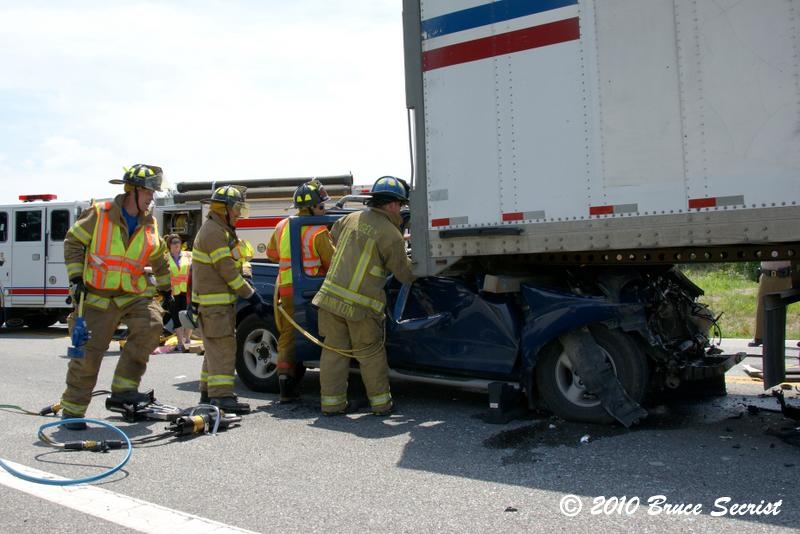 5/26/2010 – At approximately 12:05 PM Talbot County Station 80 (Queen Anne-Hillsboro), Caroline County Station 400 (Ridgely) and Paramedic 13 were dispatched for an MVC, car vs. tractor trailer with entrapment on Shore Highway (Route 404) in the area of Hillsboro Road. Paramedic 13 arrived on location and reported one vehicle under the rear of a tractor trailer with heavy entrapment.
Officer 420 (R. Baker) arrived on location, established "Shore Highway" command and requested an additional Rescue from Station 300 (Denton), an Engine from Station 50 (Cordova) and Aviation. Crews from Station 80, Station 400, Station 300 and Caroline County ALS worked to extricate the patient while the crew from Engine 51 established a landing zone for Trooper 1. After an extensive extrication, one patient was transported by Trooper 1 to the University of Maryland Shock Trauma in Baltimore. The driver of the truck refused treatment.
The accident is being investigated by the Maryland State Police.
Units on scene: Chief 80, Rescue 84, Engine 405, Rescue 300, Engine 51, Paramedic 13, Paramedic 10, Paramedic 392, Trooper 1, Maryland State Police and State Highway.
Photographs by : Bruce Secrist