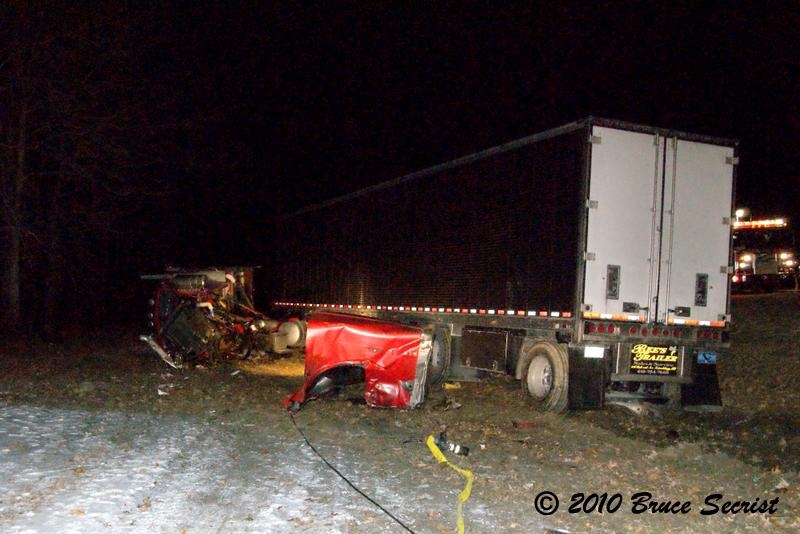 12/18/2010 – At 10:05 PM Caroline dispatched Station 400 (Ridgely), Paramedic 14 and Talbot County Station 80 (Queen Anne-Hillsboro) for a serious MVC, tractor trailer vs. pick-up with entrapment, at the intersection of Downes Station Road and Shore Highway (Route 404). Chief 4 (B. Utz) arrived on location, confirmed the situation status, and established "Shore Highway" command.
Command preformed his scene size up and advised Caroline there was one entrapment in the pick-up and the driver of the tractor trailer had self extricated. The driver of the pick-up was pronounced dead at the scene and the driver of the tractor trailer refused treatment.
The crews from Engine 401 and Engine 405 secured the fuel leaking from the tractor trailer while the crew from Rescue 84 extricated the victim in the pick-up. Queen Anne's County EM2 and Talbot County Special Unit 13 were requested to pump the fuel from the saddle tanks of the tractor trailer. Units remained on the scene until the early morning hours while the State Police conducted their investigation and the scene was cleaned up.
Units on scene: Chief 4, Engine 401, Engine 405, Utility 404, Rescue 84, Paramedic 14, QAC EM2, Special Unit 13, MDE, Maryland State Police, Ridgely PD, Caroline Sheriff Dept. and State Highway.
On behalf of Fire in the Hole Photography, I would like to offer our condolences to everyone affected by this tragedy.
Photographs by : Bruce Secrist