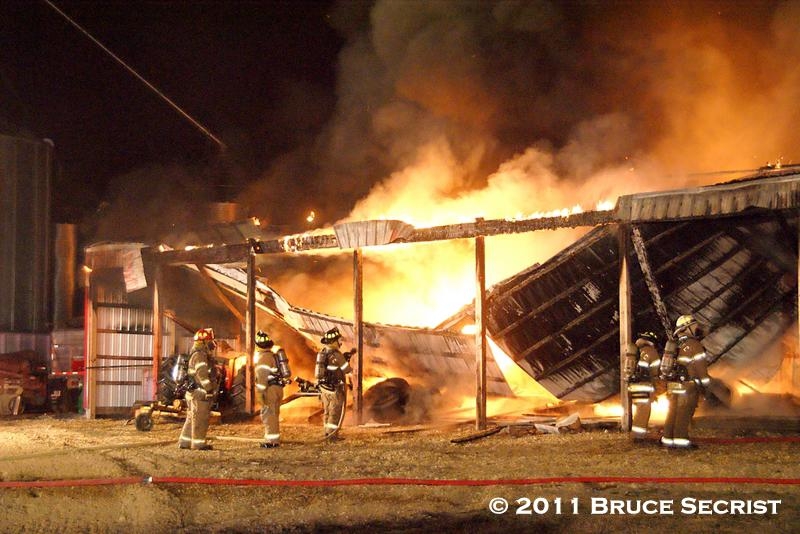 1/22/2011 – At 10:56 PM Queen Anne's County dispatched Station 4 (Goodwill), Station 3 (Queenstown), Station 2 (Grasonville) and Talbot County Station 80 (Queen Anne-Hillsboro) for a working structure fire at 621 Grange Hall Road.
While responding, Engine 41 advised Queen Anne's that a column of smoke was visible from Route 213 and John Brown Road. Engine 41 arrived on location, Officer 401 (N. Powell) reported an approximate 50' x 100' building fully involved and established "Grange Hall Road" command. Shortly after arriving, Command requested the Tanker Task Force, which added Station 5 (Church Hill) and Talbot County Station 50 (Cordova). Tankers shuttled water from a hydrant behind Chesapeake College.
Crews battled the blaze with several hand lines, Tower 4 and Truck 2. At 12:40 AM Command placed the situation under control and held all units for extensive overhaul. Units cleared the scene at approximately 3:00 AM
The cause of the fire is being investigated by the State Fire Marshall's Office.
Units on scene: Engine 41, Tower 4, Engine/Tanker 4, Rescue 4, Ambulance 40, Engine 85, Tanker 86, Engine 32, Engine/Tanker 3, Truck 2, Tanker 2, Tanker 53, Tanker 5 and Engine 55
Photographs by : Bruce Secrist