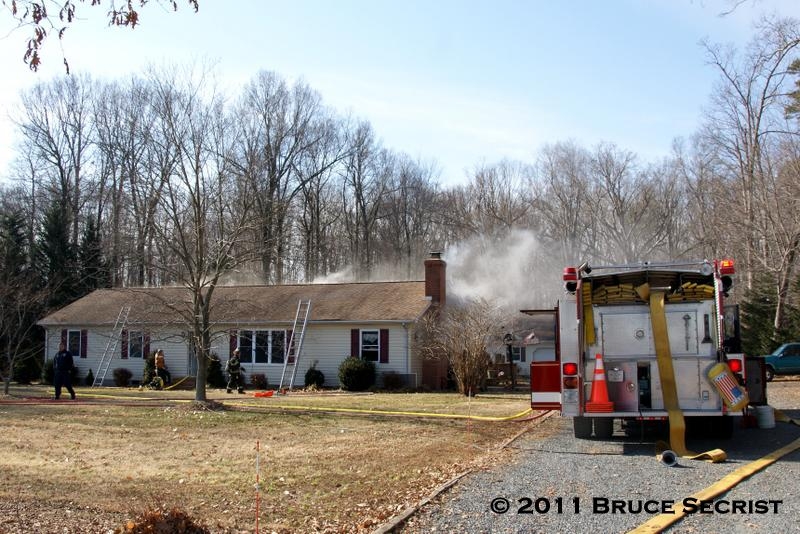 1/24/2011 – At 10:30 AM Talbot Center dispatched Station 60 (Easton), Paramedic 96 and Caroline County Station 200 (Preston) for a house fire at 7902 Dover Neck Road. Paramedic 96 was the first unit to arrive on location and reported smoke coming from the eves of the structure.
Engine 65 arrived on location and Firefighter Chance established "Dover Neck Road" command. Due to a shortage of manpower, Command requested Station 30 (Trappe) be added to the box assignment. The crew from Engine 65 was able to make a quick knock on the fire, keeping the majority of the damage to the wall around the wood stove located in the living room. Crews from Station 200 and Station 30 assisted with ventilation and overhaul.
The cause of the fire is being investigated by the State Fire Marshall's Office.
Units on scene: Engine 65, Engine 67, Tanker 61, Engine/Tanker 201, Engine 39, Tanker 36 and Paramedic 96.
PERSONAL NOTE: Members from Easton, Cordova and several other Fire Companies in the Tri-County area traveled to Baltimore this morning to pay their final respects to Fallen Firefighter Mark Falkenhan of the Lutherville VFC. Firefighter Falkenhan was killed in the line of duty last week.
Photographs by : Bruce Secrist