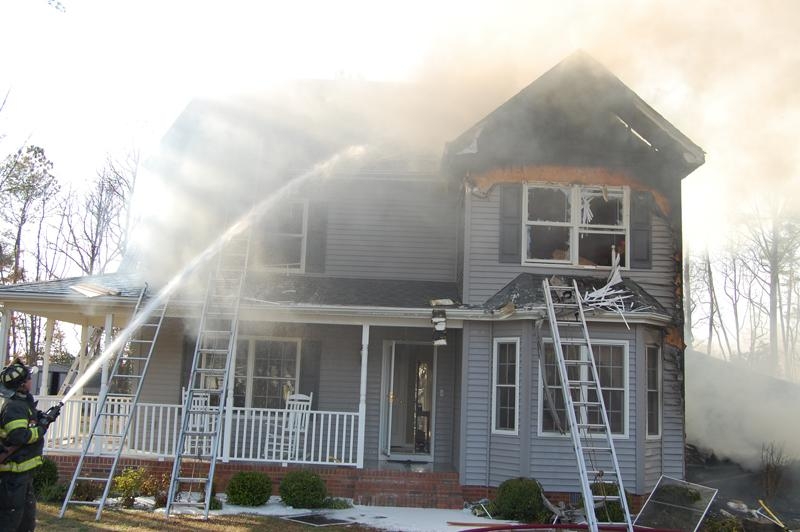 3/18/2011 – On the Friday afternoon hours of March the 18th the Laurel (81), Georgetown (77), and Blades (71) Fire Departments were dispatched for a structure fire at 14384 Megan Way in Shiloh Woods 2. Asst. Chief Keith Lecates responded in command 81. He was advised by Laurel BLS unit of heavy fire from side D of the structure. Command could see heavy smoke visible from a distance away and called for a cover-up from Sharptown (14) in Laurel.
Asst. Chief Lecates arrived on scene and established command of incident. E-2 was first arriving unit from 81 and crew was directed to attack the fully involved attached garage. E-4 arrived next and their crew began an interior attack on the main living area of the home. Tower 81 arrived and crew was giving the assignment of ventilation. Additional units began arriving from 77 and 71 and starting assisting in fire suppression and water supply. The garage area completely collapsed, which forced heavy fire into the stairway where firefighters were advancing upstairs, causing burns to one firefighter. At this time firefighters were ordered to evacuate the structure, as fire also began to vent thru the roof. An exterior attack by tower 81 knocked down the fire venting from the roof to allow firefighters to re-enter the structure for salvage and overhaul.
Firefighters worked together to salvage as much as they could from water damage by covering or removing items from the structure. Additional tankers were requested to the scene from Gumboro (79) and Millsboro (83). The Engine from 14 was requested to the scene for manpower. A BLS unit was requested from 71 to transport the injured firefighter. Asst. Chief Lecates placed the incident under control in little over an hour.
The cause of the fire was a malfunctioning lawnmower in the garage that rapidly spread destroying the home. Thanks goes out to all the Departments that assisted on scene, or responded to the other 2 emergencies in our district during this alarm. Special thanks to the stand-by crew from Delmar (74) who responded on a cardiac arrest in our district, and was able to record a save.
Story By: Dwayne Chaffinch
Photos By : Danah Chaffinch (BVFC)