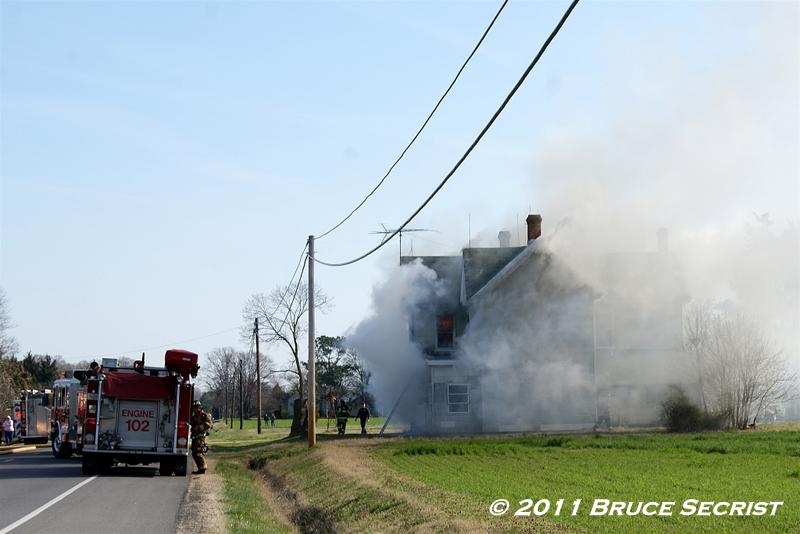 3/25/2011 – At approximately 9:15 AM Caroline dispatched Station 200 (Preston), Station 100 (Federalsburg) and Talbot County Station 60 (Easton) for a working house fire at 5371 Bethlehem Road. Engine 204 arrived on location to find a two story farm house with heavy fire showing. Shortly after the first units arrived a 2nd alarm was requested, bringing units from Station 300 (Denton) and Dorchester County Station 6 (Hurlock).
Crews started with an interior attack, however due to the amount and location of the fire, they were forced to back out and go to a defensive attack. Tower 310 arrived on location and was put into service on the "Bravo" side of the structure. Hurlock's Engine 7 was sent to a near by pond to establish a draft and additional tankers were requested from Talbot County Station 40 (St. Michaels) and Station 30 (Trappe). Once the majority of the fire was knocked crews were able to do overhaul and hit the remaining hot spots. The Canteen Unit from Station 400 (Ridgely) provided refreshments while Dorchester EMS provided rehab.
The cause of the fire is under investigation by the State Fire Marshall's Office.
Officer 219 (D. Cheezum) had "Bethlehem Road" command and later transferred it to Officer 217 (T. Plutschak).
Photographs by : Bruce Secrist