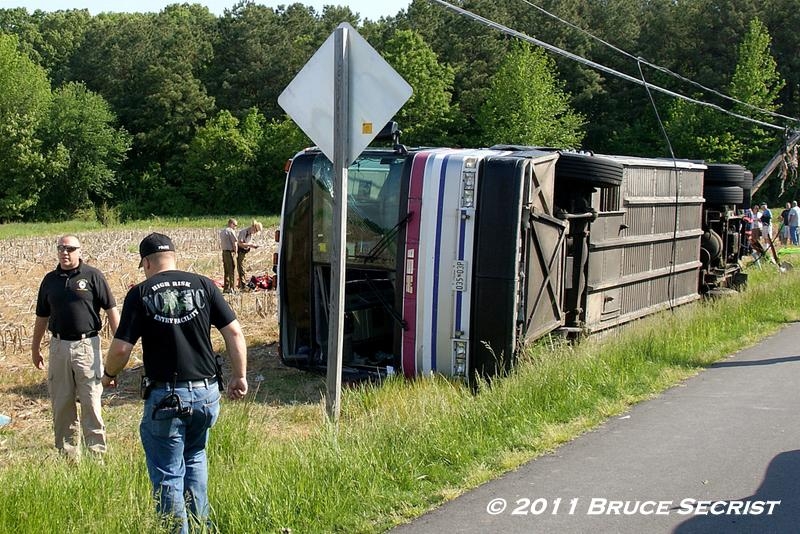 5/12/2011 – At approximately 8:45 AM Queen Anne's County dispatched Fire and EMS crews for an MVC involving a tour bus on Route 213 in the area of White Marsh Road. Paramedic 40 arrived on location to find one bus on its side with multiple patients out of the bus and standing in the field. Chief 4 (N. Powell) arrived on location and established "Route 213" command. After further scene assessment, command requested additional Paramedic Units, the Medical Ambulance Bus from Anne Arundel County Station 21, and Aviation. A total of 16 patients were transported by ground to several local facilities and one patient was transported by Trooper 6 to the University of Maryland Shock Trauma Center in Baltimore.
The Maryland State Police are investigating the cause of the accident.
Units on scene: (Station 4) Engine 41, Rescue 4, Special Unit 49, Paramedic 40, Chief 4, (Station 5) Engine 52, (Station 3) Paramedic 3, (Station 6) Paramedic 60, (Station 7) Ambulance-70, (Station 1) Paramedic 10, QAC Paramedic 100, Paramedic 300, Paramedic 400, Paramedic 600, EMS-1, EMS-4, DES-1, Com-1, Caroline County Paramedic 17, Paramedic 492, Talbot County Paramedic 90, Kent County Ambulance 8, Ambulance 81, Trooper 6, Maryland State Police, Queen Anne's Co. Sheriff Dept., MIEMSS and State Highway.
Photographs by : Bruce Secrist