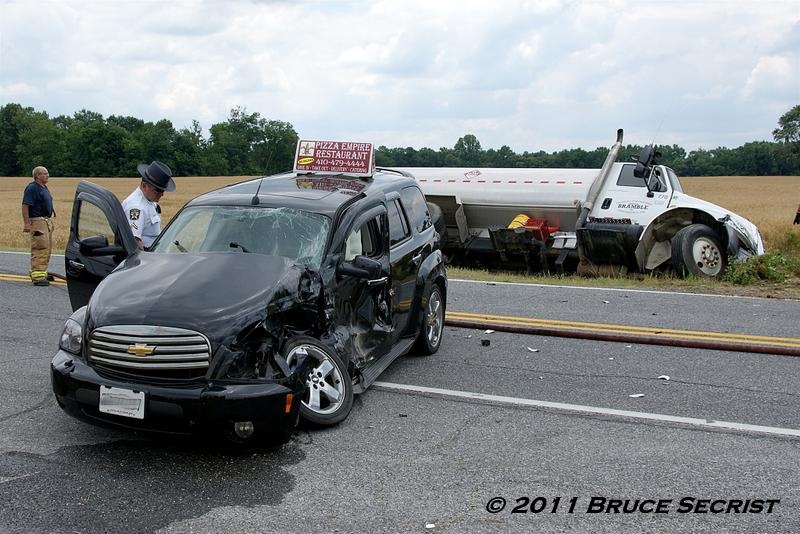 6/14/2011 – At 12:50 PM Caroline dispatched Station 80 (Queen Anne-Hillsboro), Station 50 (Cordova), Station 300 (Denton), Station 400 (Ridgely) and Paramedic 16 for an MVC involving Hazmat at the intersection of Hillsboro Road and Butler Road. Officer 801 (C. McNeal) arrived on location to find two vehicles involved, including a fuel truck on its side in the ditch, and established "Hillsboro Road" command.
After further investigation, Command was advised the truck was loaded with 2,800 gallons of diesel fuel and was not leaking. Dorchester County Station 1-1 (Cambridge) was dispatched for their Hazmat Trailer as well as MDE. Crews worked with MDE to drill four holes in the tank and off load the fuel onto a tractor-trailer supplied by Tri Gas and Oil. Once the truck was off loaded crews were able to upright the truck.
Both patients were transported to the Memorial Hospital at Easton with minor injuries and the cause of the accident is being investigated by the State Police. Hillsboro Road was closed in both directions for approximately 4 ½ hours.
Units on scene: Chief 80, Rescue 84, Brush 87, Engine 51, Engine 405, Engine 304, Rescue 300, Ambulance 392, Paramedic 16, Hazmat 1-1, MDE, Caroline Sheriff Dept., Maryland State Police and State Highway.
Photographs by : Bruce Secrist