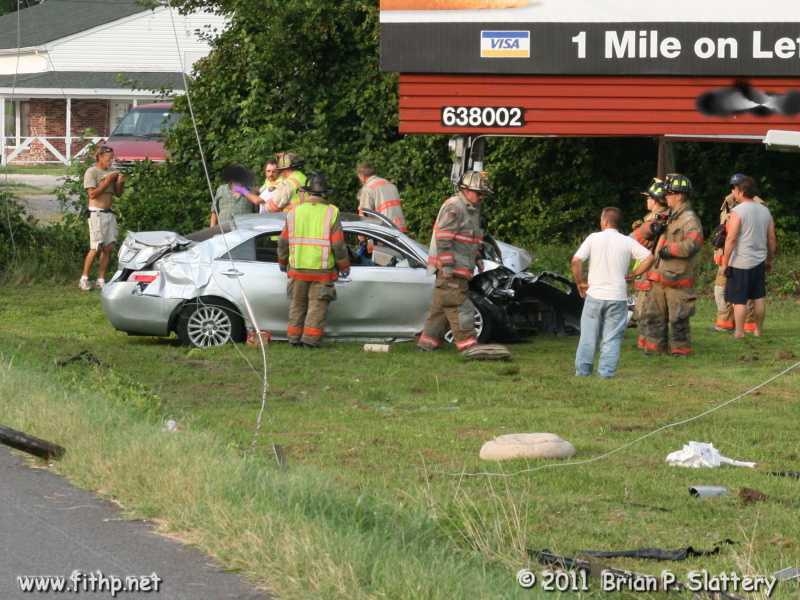 7/29/2011 – On Friday, July 29, around 07:30, Kent Center dispatched Station 50 (Harrington) and Kent County EMS (KM-8) for an MVC with rollover on South duPont Highway, just north of Harrington.
Houston Fire Chief Bobby Scott (52-15) arrived on scene a few minutes after dispatch, advising that this was a single vehicle rollover and there was a pole snapped off with wires down. Harrington Assistant Chief Robbie Brode (50-17) arrived shortly afterwards and assumed command, closing the southbound lanes of US 13.
One occupant of the vehicle was transported to Milford Memorial Hospital with non-life-threatening injuries. The other occupant was pronounced at the scene by Kent County EMS Paramedics.
The highway was closed southbound for about two hours while police investigated, the utility pole was replaced, and the scene cleared.
Units on scene:
Command 50, Rescue 50, Engine 50-3, and Ambulances B-50 and C-50
Kent County EMS Paramedic KM-8, Harrington PD, and Delaware State Police
Photographs by : Brian Slattery