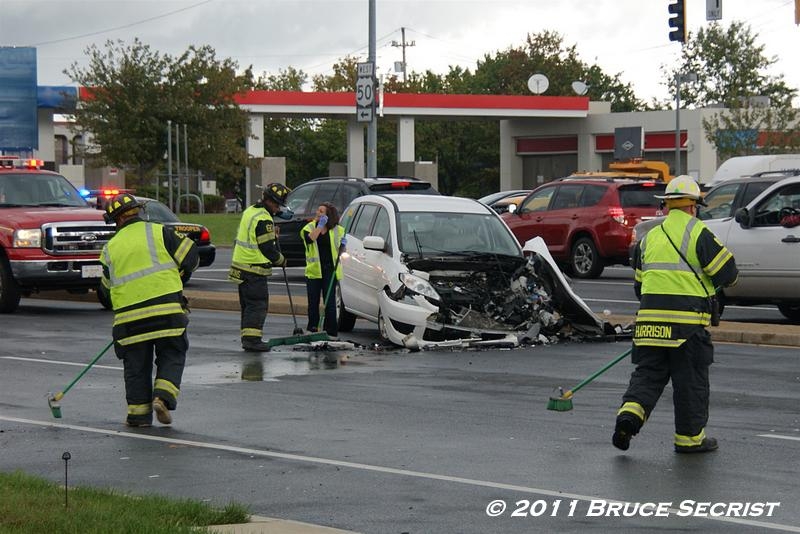 10/14/2011 – At approximately 1:45 PM Talbot Center dispatched Station 60 (Easton), Station 30 (Trappe), Paramedic 96 and Paramedic 90 for a 10-50 PI involving a tractor trailer on Ocean Gateway in front of the Wawa. Chief 60 (J. McNeal) arrived on location to find one passenger vehicle with extensive front end damage and one tractor trailer with an active fuel leak from a saddle tank. Officer 601 (J. McNeal) established "Ocean Gateway" command.
After further investigation Command cancelled Station 30 units and requested the Talbot County Hazmat Trailer. Firefighters worked quickly to contain the diesel fuel leaking from the truck while EMS crews treated the occupants of the passenger vehicle. Three patients were transported to the Memorial Hospital at Easton with minor injuries and the driver of the tractor trailer refused treatment at the scene.
East bound Ocean Gateway remained closed for several hours while the accident was cleaned up.
Units on scene: Chief 60, Chief 61, Rescue 61, Engine 68, Paramedic 90, Paramedic 96, EMS-1, Special Unit 13, Easton PD and State Highway.
Photographs by : Bruce Secrist