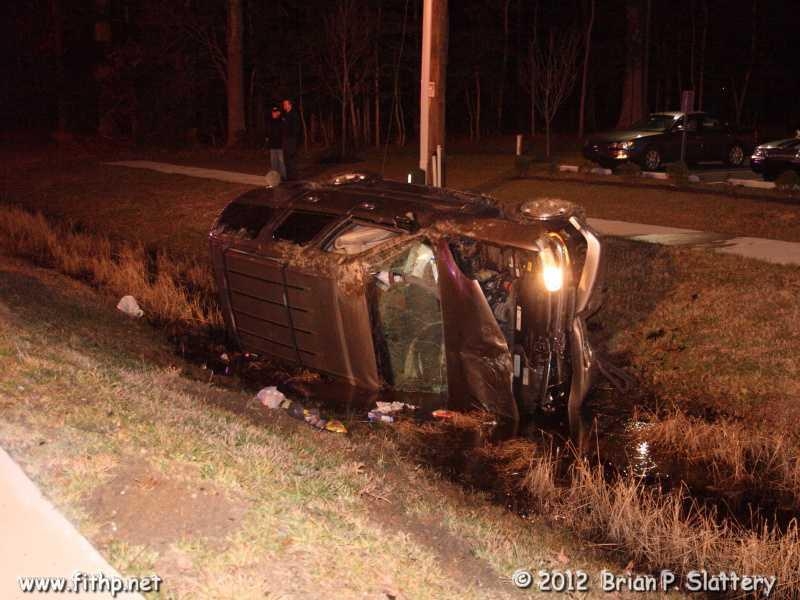 2/20/2012 – Around 01:10, Kent Center dispatched Station 41 (Camden-Wyoming), KM-8 (Kent County EMS Paramedics), KM-5 (KCEMS Supervisor) and Trooper 4 (Delaware State Police Aviation) for an MVC with rollover and entrapment on southbound S. duPont Highway, just south of Walnut Shade Road. Shortly after the initial dispatch, Kent Center alerted Station 48 (Felton) for an additional ambulance due to reports of at least three patients.
Arriving units found the occupants of the vehicle that rolled had been able to self-extricate, and the lone occupant of the other vehicle was heavily entrapped. Command (41-15, Chief Tom Rigsby) requested DelDOT for traffic control assistance.
The crew from R-41 began stabilization and extrication operations on the vehicle with entrapment. E41-1's crew arrived and attended to the patients from the rollover vehicle, both with minor injuries, transferring them to ambulance A-48 for transport to Kent General Hospital, before assisting with extrication. Unfortunately, the occupant of the vehicle succumbed to their injuries before crews were able to complete extrication.
Units on scene:
Ambulances B-41, A-48
Rescue 41, Engine 41-1
Paramedic KM-8, Paramedic Supervisor KM-5
Photographs by : Billy Adkins