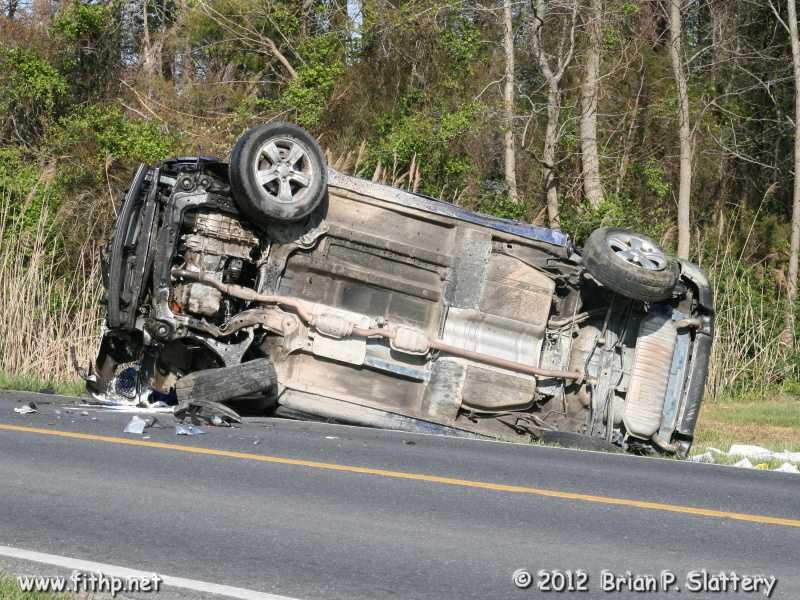 4/10/2012 – Around 16:45, Kent Center alerted Station 50 (Harrington) for an MVC on Carpenter Bridge Road, just north of Harrington. Shortly after the initial dispatch, Kent Center added KM-8 (Kent County EMS Paramedics) and Trooper 2 (DSP Aviation), reporting this was a rollover, vehicle versus utility pole.
Harrington PD (907-2, PFC J. Perna) arrived first, finding a single vehicle on its side. PFC Perna entered the vehicle to render aid to the occupant. Ambulance B-50 arrived shortly after with KM-8 behind them.
Command 50 (50-17, R. Brode) arrived, established command, and directed Rescue 50's crew to start with stabilization of the vehicle. Rescue 50's crew deployed step cribbing and struts before performing a roof flap to help in removing the patient. Engine 50-5's crew assisted upon their arrival. Extrication took about 15 minutes to complete. The patient was packaged and transported via B-50 with ALS to Milford Memorial Hospital.
Units on scene:
Command 50, Ambulance B-50, Rescue 50, Engine 50-5, Paramedic KM-8
Harrington PD, Delaware State Police