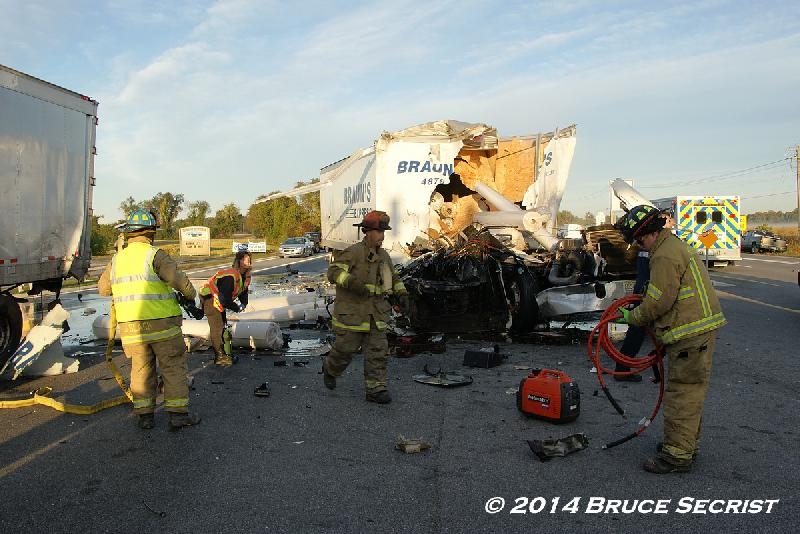 10/9/14 – At approximately 7:30 AM Caroline dispatched Station 80 (Queen Anne-Hillsboro), Station 400 (Ridgely), Station 300 (Denton), Paramedic 13 and Paramedic 392 for an MVC, reported serious with entrapment at the intersection of Shore Highway and Ridgely Road. Officer 803 (C. McNeal) arrived on location, reported two tractor trailers involved in a rear end style collision with heavy entrapment and established "Shore Highway" command.
While crews worked vigorously to extricate the passenger from the mangled wreckage of the cab, Command requested an additional Rescue from Station 50 (Cordova), a Paramedic Unit from Queen Anne's County and Trooper 6. The drivers of both tractor trailers refused treatment at the scene and the passenger from one of the trucks was transported to the University of Maryland Shock Trauma Center in Baltimore, Maryland where he succumbed to his injuries
Command requested the Pump-Off Trailer from Station 1 (Kent Island) and MDE to assist with clean up. Jess Jr's. and Sons responded to clean up the wreckage from the tractor trailers and Knotts' Towing was called to remove a vehicle from a minor MVC that resulted from this accident.
The cause of the accident was investigated by the Maryland State Police while the Caroline Sheriff's Department, Ridgely PD and SHA assisted with traffic control. Shore Highway remained closed for approximately 8 hours while the scene was cleaned up.
Our thoughts and prayers are with everyone effected by this tragedy. Once again, Route 404 has proven to be one of the deadliest roads in Maryland.
Photographs by : Bruce Secrist