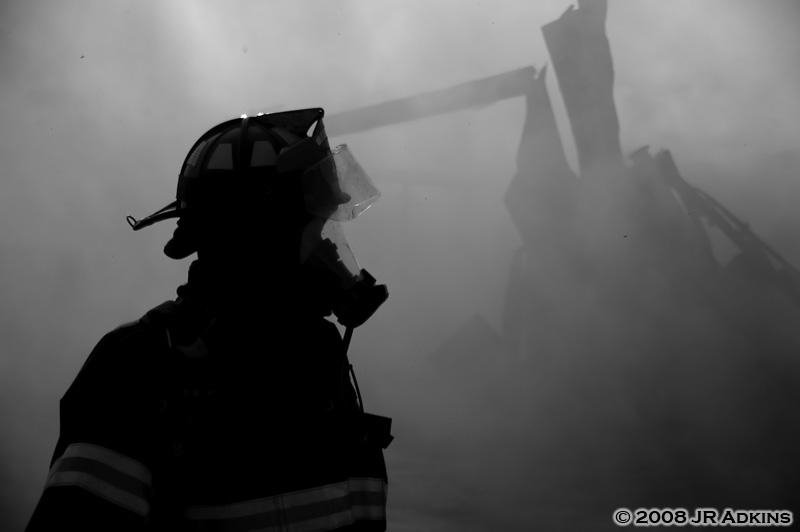 1/21/2008 – At approx. 1345 hours the Laurel, Delmar, and Sharptown Fire Departments were dispatched for a structure fire in Bethel. Deputy Chief Jeff Hill responded and arrived on scene to confirm a working alarm, of a building heavily involved. Responding units from Sharptown could see visible smoke from leaving their town limits.
Laurel units E-2, and E-4 arrived on scene and made a defensive attack with a blitz line and 1 ¾ pre-connects. E/T -5 arrived and picked up the supply line laid by E-4. Sharptown and Delmar units started arriving and assisted with fire suppression and water supply.
Blades units were diverted from a house fire in Seaford, as their assistance would be needed in Bethel. That brought Tanker 71 and Rescue 71 to the scene. Tanker 71 would become the nurse truck, as a water shuttle was put into place from a hydrant in town. Firefighters escaped injury as a storage tank of an unknown combustible exploded while crews worked to extinguish the blaze. Truck 74 was set up to help extinguish the fire in the large 40 by 130 foot storage equipment workshop building. The Georgetown engine that was standing by in Laurel was brought into the scene to assist in overhaul and Seaford transferred one engine to fill in at 81.
Firefighters battled the blaze for over an hour before bringing it under control. Fire investigators determined that the fire originated by combustibles too close to the chimney that vented the wood stove. Damages have been estimated at approx. $400,000. Deputy Chief Hill placed the last 81 units back into service at 1620 hours.
Units on Scene: Laurel E-2 , 4, 5, B-81, 81-8, Delmar E/T-2, Truck 74, Tanker 74, Sharptown E-1404, E/T 1402, Blades Tanker 71, Rescue 71, Georgetown E-2, SCEMS 102, FM 17, Seaford E/T -9 for stand-by in Laurel.
Story by Laurel Fire Department
Photographs by : JR Adkins