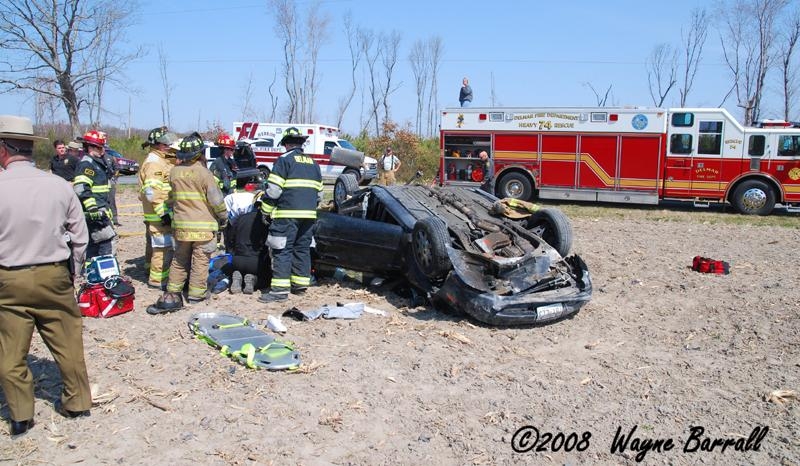 3/26/2008 – Delmar fire crews were dispatched to the area of Adkins Rd & Jersey Rd in Delmar Md. for a reported accident with rescue. Crews arrived to find a Ford Taurus on its roof out in a field after coming in contact with a utility pole. There were multiple Maryland State Police & Wicomico Co Sheriff's Department members already on scene. Rescue crews removed the driver of the vehicle and transferred him over to an awaiting Hebron EMS unit where he was transported to PRMC with a Sheriff unit as an escort.
This accident happened as a result of a high speed pursuit. A Wicomico Co Sheriff's Deputy tried to stop the vehicle for speeding on Connelly Mill Rd and when the officer was walking up to the car the driver sped off. The chase reached speeds up to 100 mph and continued on Jersey Rd where the driver lost control, struck a utility pole and over turned.
This Fire in the Hole Photographer was one of the first EMS/Fire personnel on scene and provided patient care until the first arriving units went on scene. It just goes to show that we are photographers after we are firefighters and EMS.
Responding units:
74 Command, Rescue 74, Engine 74-3, 74 Fire Police, Paramedic A-5 Hebron, Maryland State Police Trooper-4, Maryland State Police and the Wicomico County Sheriffs Department.
FITHP.NET Photographer Jason Donalds was also on scene.
Photographs by : Wayne Barrall