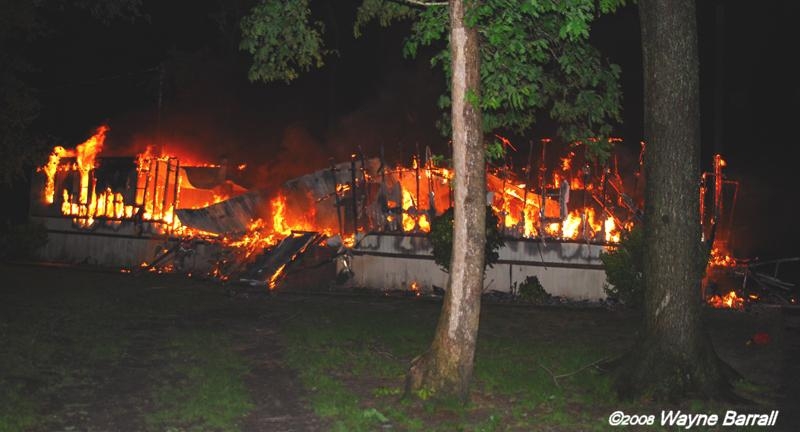 5/13/2008 – At 1:34am the Sussex County Emergency 911 Center alerted Stations 74 Delmar, 81 Laurel, 5 Hebron, Medic 102, EMS 200 for a working structure fire on Comtempment Lane west of Delmar. 74 Command arrived to find a mobile home fully involved with fire. There was one of the homes occupants desperately trying to gain access in one end of the home to rescue a 2nd person.
Engine 74-3 arrived and put in service two 1 ¾ hose lines. Due to the extensive damage already done by the spread of fire, crews mainly did a defensive attack. A water shuttle was set up due to it being in the country side with no hydrants.
A 16 year old male was inside when the fire started and tried several times to save his father still in his bedroom. He alerted a neighbor to the fire and returned to make several attempts at saving his father again. The family dog was also lost in the fire.
The Delaware State Fire Marshals Office was called in to do an investigation as to the cause of the fire. Units cleared the scene at 4:10am.
** On a side note, when I went back in the morning to give the Fire Marshal's Office copies of all the photographs I took. The son had returned with his step mother and asked me what he would have to do to become a volunteer with our fire department. It was hard to stand there and talk to him knowing what he went through hours before and he already wants to give back to the fire department that helped him in his darkest hour of need. My thoughts and prayers go out to him and his family**
Photographs by : Wayne Barrall