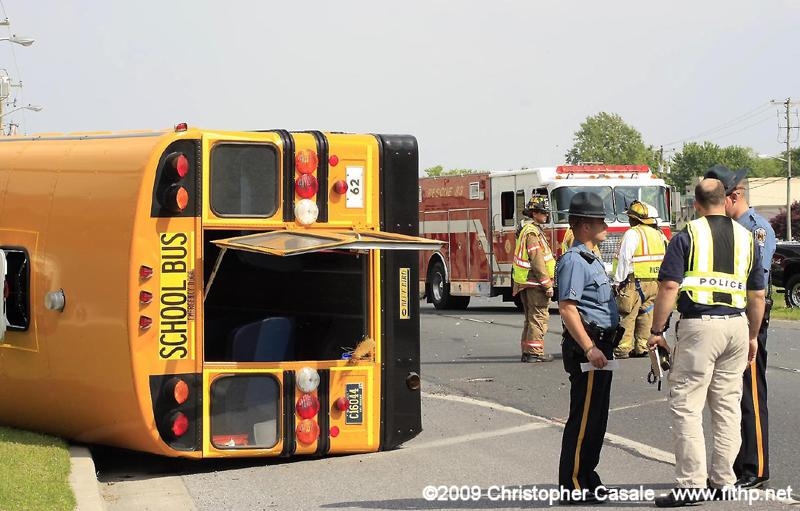 5/13/2009 – Five children were transported to area hospitals with minor injuries Tuesday after a school bus overturned, officials said.
The accident occurred at about 3:45 p.m. at the corner of Delaware Avenue and Route 113 in Millsboro.
According to Indian River School District officials, the bus was northbound on Route 113 when it collided with a Buick Century. Police said a preliminary investigation revealed the driver of the bus was not at fault and the driver of the Buick, the sole occupant, was uninjured.
Murphy said there were five children on the bus at the time of the crash, all Millsboro Middle School students. All five students were transported to the hospital as a precautionary measure, he said. The driver of the bus was not injured.
'None of the injuries were serious,' Murphy said. 'This is obviously very good news. We were blessed today.'
Gary Brittingham, assistant superintendent of the Indian River School District, said parents were immediately notified of the accident.
'Most of the students had already been dropped off at home,' he said. 'The district took it upon itself to send the kids to the hospital even though we weren't able to get all of the parents on the phone.'
The Millsboro Police Department, the Millsboro Volunteer Fire Company and the Delaware State Police responded.
Lisa Stevens of Georgetown was also on scene.
'When I was in school, I always wondered why they don't have seat belts on school buses.'
ksmith@dmg.gannett.com
Story from The Daily Times