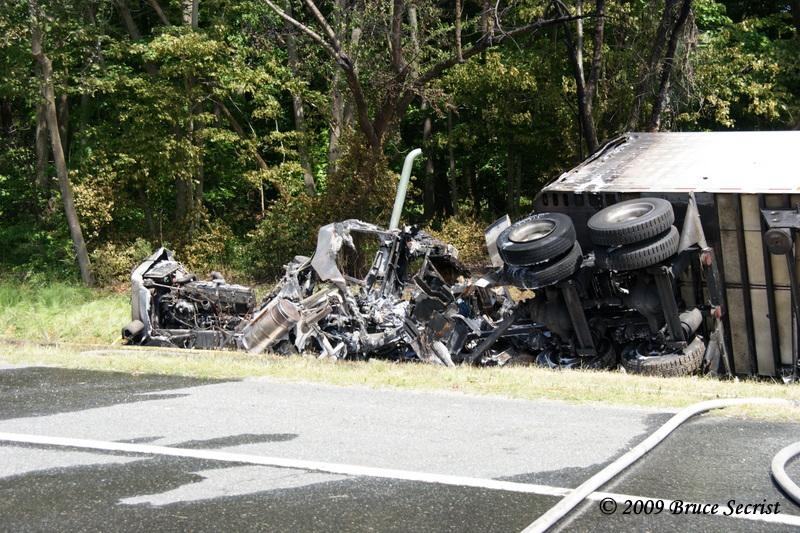 5/23/2009 – At approximately 10:45 AM Caroline dispatched Station 300 (Denton) for a MVC with multiple vehicles at the intersection of Shore Highway (Rt. 404) and River Road. Prior to the arrival of Fire and EMS, additional reports advised there was fire and entrapment. At this time Station 400 (Ridgely) and Station 800 (Queen Anne-Hillsboro) were dispatched as well.
Officer 316 (Dallas Lister) arrived on location, established "Shore Highway" command and confirmed three vehicles involved with one of them being a tractor trailer. Command also advised incoming units the tractor trailer and one vehicle were on fire. While crews from all three companies battled the blaze, paramedics started patient care and requested aviation. Rescue 84 was designated to the LZ. One patient was transported to the University of Maryland Shock Trauma Center by Trooper 6 and several patients were transported to Memorial Hospital at Easton.
West bound Route 404 remained closed for more then 6 hours while the accident scene was cleaned up. The trailer was loaded with frozen food and had to be off loaded into dumpsters before the trailer could be up righted. MDE assisted with the clean up of approximately 150 gallons of diesel fuel. The Maryland State Police are conducting the investigation.
Units on scene: Engine 304, Engine 305, Rescue 300, Tanker 306, Paramedic 391 & 392, Chief 4, Engine 401, Engine 405, Tanker 406, Ambulance 81, Rescue 84, Trooper 6, MDE, Maryland State Police and Caroline Sheriff Dept.
Photograghs by Bruce Secrist, Glenn Secrist
Photographs by : Bruce Secrist