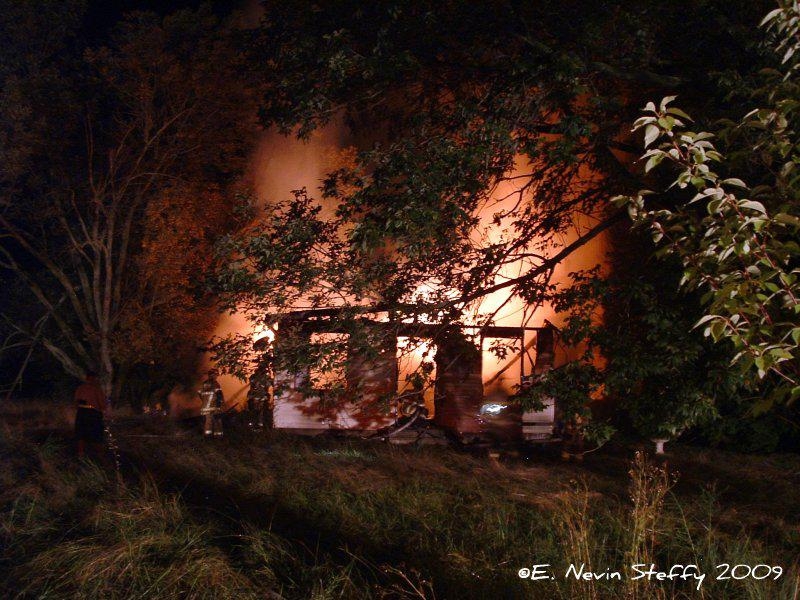 8/21/2009 – At 2332 hours, Kent Central Alarm dispatched Box 60-5 for the structure fire at 27942 Old Morgnec Rd, outside of Chestertown. This was during a period of strong thunderstorms in the area that had forced the relocation of the dispatch center to its back-up location due to power issues at its primary site. First arriving units found a small single family dwelling fully involved.
During the initial attack, a 100 pound propane gas cylinder was located to the rear of the structure, next to a 250 gallon fuel oil tank, that had self vented and was burning off the escaping contents. Units initially place two hand lines in service to the rear of the structure in an effort to cool the propane tank. The house and contents were a total loss.
Due to its remote location, numerous Mutual Aid tankers were called in to assist.
The Maryland State Fire Marshal's Office is currently investigating.
Units on location were:
Kent County Units – Tower 6, Tanker 6, Rescue 6, Engine 67 (Chestertown), Rescue Pumper 4, Tanker 4 (Kennedyville), Engine 53 (Betterton), Engine 3 and Tanker 3 (Galena), Paramedic 81, Utility 81 and Special Operations Trailer 8 (Kent and Queen Annes Rescue Squad), and Kent County EMS. Maryland State Fire Marshal FM68 (Vanzant).
Queen Annes County Units – Engine Tanker 7, Rescue Engine 7, Utility 7 (Crumpton), Engine 55 (Church Hill), and Tanker 6 (Sudlersville).
Addition Queen Annes and Cecil County units were utilized for transfers.
Story and Photos By: E. Nevin Steffy