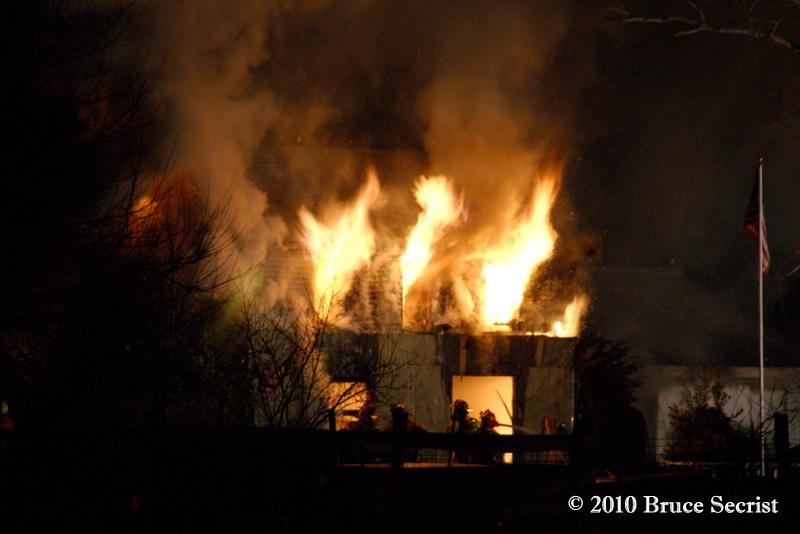 3/7/2010 – At approximately 7:50 PM Caroline dispatched Station 700 (Goldsboro), Station 600 (Greensboro), Station 400 (Ridgely), Station 300 (Denton), Station 56 (Marydel) and Paramedic 17 for an appliance fire at 14400 Irwin Chapel Road. Minutes later Caroline advised all responding units the call was being upgraded to a working structure fire with 4 occupants trapped on the 2nd floor.
Paramedic 17 was the first unit to arrive on location to find a two story farm house well involved, Engine 703 was the next unit in and Officer 717 (D. Wothers) established "Irwin Chapel Road" command. Occupants were able to jump from a 2nd story window prior to the arrival of emergency equipment and Paramedics found one occupant laying in the driveway unconscious suffering from smoke inhalation and burns. Hand lines from Engine 703 and Engine 603 were put into service to begin an aggressive attack on the large blaze which had already extended into a large detached garage. Tankers shuttled water from Wothers Road, just outside of Greensboro to the scene and supplied Tanker 704. Officer 716 (B. Cahall) was assigned "Water Supply". Additional Tankers were requested from Talbot County Station 80 (Queen Anne-Hillsboro) and Kent County Delaware Station 48 (Felton).
Trooper 4 was requested to transport one Priority 1 patient to Bayview Burn Center in Baltimore while 3 other patients were transported by ground to Kent General in Dover, Delaware.
Crews remained on the scene for approximately 5 ½ hour and the cause of the fire is under investigation by the Maryland State Fire Marshall's Office
Photographs by : Bruce Secrist