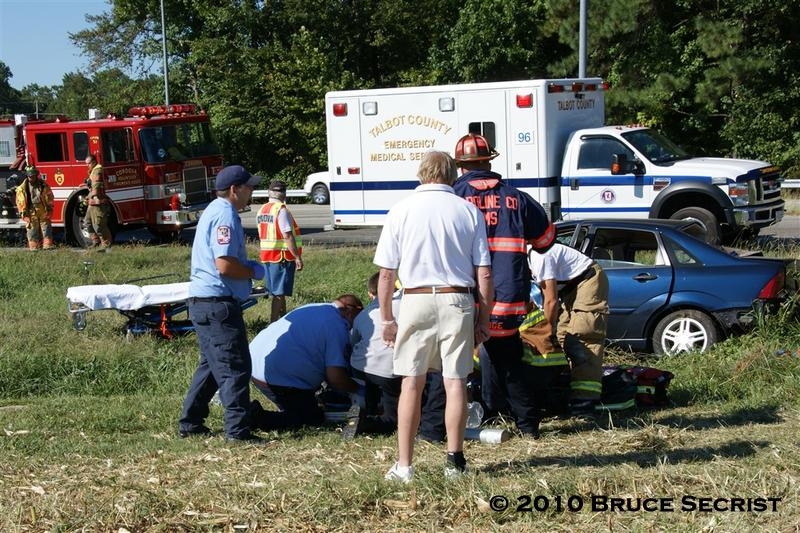 9/9/2010 – At approximately 9:55 AM Talbot Center dispatched Station 50 (Cordova), Paramedic 90 and Paramedic 96 for a 10-50 PI reported serious, car vs. ambulance, at the intersection of Ocean Gateway and Old Skipton Road.
Caroline County Paramedic 17 and Paramedic 90 arrived on location to find the driver of the car still in the vehicle and in trauma arrest. Crews from the three Paramedic units were able to extricate the patient and start ALS care. Fire crews assisted with loading the patients, securing the vehicles and closing a portion of Ocean Gateway (Route 50) while the State Police reconstructed the accident scene.
Both patients (driver of car and driver of ambulance) were transported to the Memorial Hospital at Easton. The driver of the ambulance had minor injuries and the driver of the car succumbed to her injuries.
The cause of the accident is under investigation by the Maryland State Police.
Units on scene: Engine 51, Engine 54, Rescue 84, Paramedic 90, Paramedic 96, Paramedic 17, Maryland State Police and State Highway
On behalf of everyone at Fire in the Hole Photography, I wish to offer our condolences to everyone affected by this tragedy.
Photographs by : Bruce Secrist