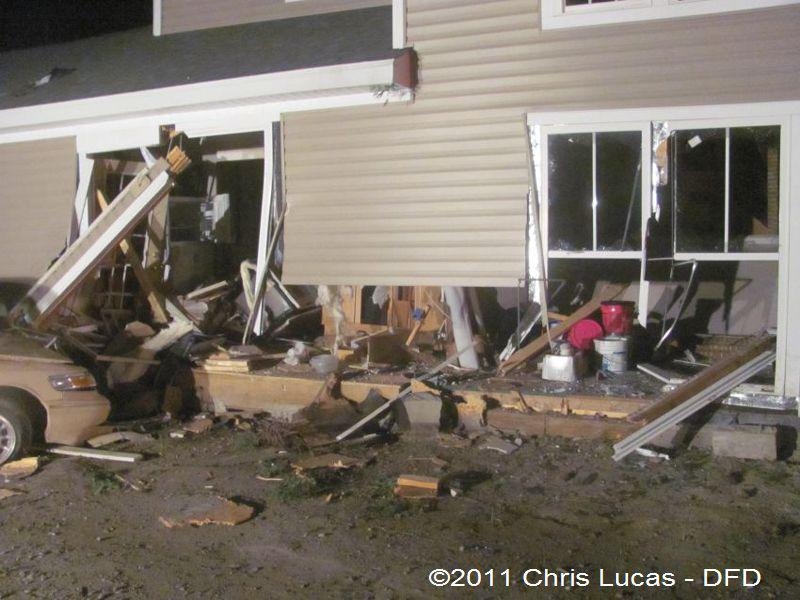 8/9/2011 – At approximately 01:00 Hours, Paramedic B-74 was returning from a transport to Seaford, DE and while travelling south on US 13 observed a bright blue flash of light in the distance followed by a power outage darkening a significant area of the Town of Delmar.
Shortly thereafter Sussex EOC alerted Station 74 for a reported car vs power pole on Old Racetrack Road. The power outage affected the fire station and fire units were not immediately able to exit the station.
Upon arrival, Paramedic B-74 found Delmar Police were already on location. A Mercury Grand Marquis struck a house causing major damage to the "B" side of the occupied dwelling.
All occupants in the home were uninjured and safely exited the structure. The driver of the Mercury fled the scene and as of the time of writing had not been located. The Sussex County Technical Rescue Team was alerted to assist units from Station 74.
Units on-scene: Paramedic B-74, Command 74-7, Truck 74-4, Engine 74-1, Engine 74-3, Tech Rescue 1, Tech Rescue 2, Delmar Police and Delaware State Police.
Delaware State Police Helicopter Trooper 2 conducted an area search for the driver. Hebron Fire Dept Engine 507 provided a fire stand-by at Station 74.
Units cleared at 4:30am.
Photos by Chris Lucas
Story from Delmar Fire Department