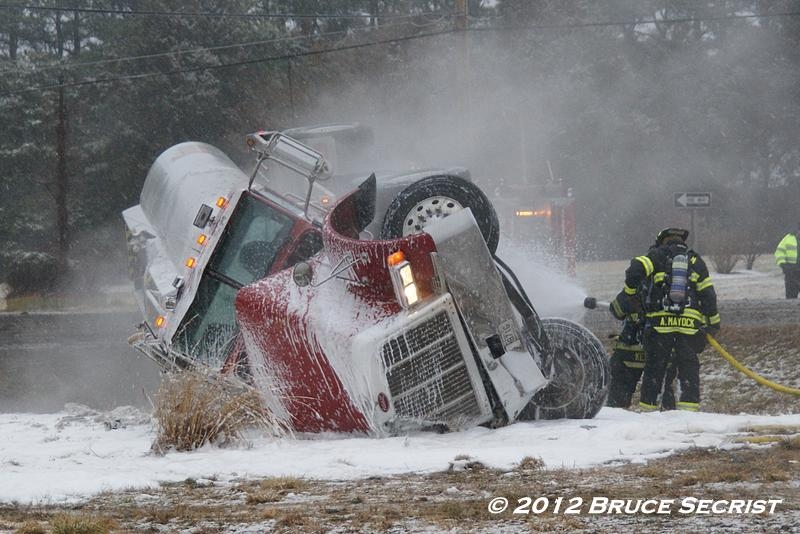 2/11/2012 – At approximately 7:15 AM Talbot Center dispatched Station 60 (Easton) and Paramedic 90 for a 10-50 PI with rollover on Ocean Gateway (Route 50) in the area of Airport Road. Chief 60 (J. McNeal) arrived on location; reported one tractor-trailer overturned and established "Ocean Gateway" Command.
After further investigation, Command advised all responding units that the truck was carrying 7,000 gallons of gasoline and there was smoke coming from the tractor. At this time Command requested the Talbot County Pump-Off Trailer, Station 50 (Cordova) and MDE be added to the Rescue Box. Crews arrived, quickly applied foam to the tractor extinguishing the small fire and started containing the gasoline leaking from the trailer. MDE arrived and pumped the remainder of the gasoline from the trailer however approximately 3,200 gallons leaked into the ground.
Equipment from Station 80 (Queen Anne-Hillsboro), Station 40 (St. Michaels) and Canteen 4 also provided assistance at the scene. The driver of the truck was transported to the Memorial Hospital at Easton with minor injuries and later returned to the scene. Route 50 remained closed to all traffic in both directions until approximately 3:30 PM.
Units on scene: Chief 60, Chief 61, Rescue 61, Engine 64, Engine 67, Engine 68, Tanker 61, Engine 51, Tanker 53, Engine 85, Engine 48, Paramedic 90, Canteen 4, MSP, Talbot Sheriff's Dept, Easton PD, State Highway and MDE
Photographs by : Bruce Secrist