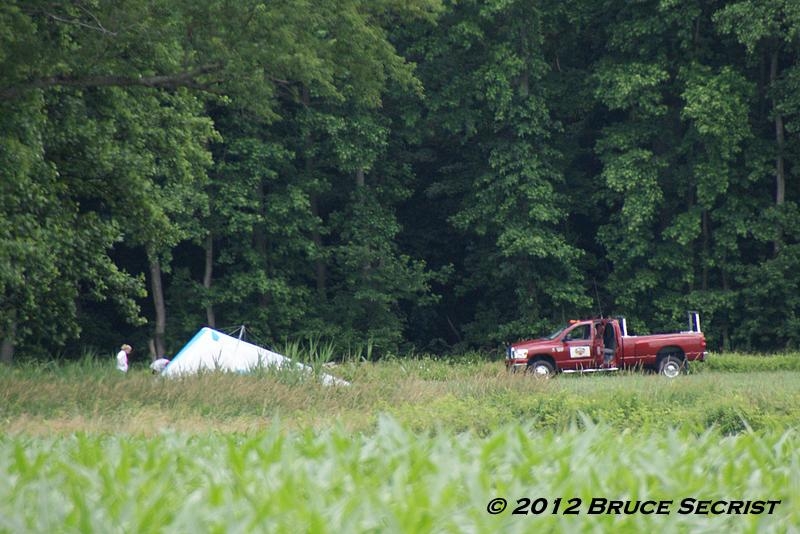 6/6/2012 – At 1:45 PM Caroline dispatched Station 400 (Ridgely), Station 600 (Greensboro), Paramedic 14 and Paramedic 17 for an aircraft accident in the area of Oakland Road and Marble Head Road.
Chief 4 (B. Utz) arrived on location to find two hang gliders down in a field on opposite sides of the roadway and Officer 415 (B. Utz) established command. The subject that landed in the corn field was not injured and refused treatment at the scene; however the subject that landed in the wheat field suffered serious injuries. Aviation was requested and that patient was transported to the University of Maryland Shock Trauma Center by Trooper 6. After further investigation it was determined that a another glider was down in Bridgetown and 15 other hang gliders were unaccounted for. Trooper 1 was dispatched to assist in searching the area for any other hang gliders down.
According to Highland Aerosports, 25 hang gliders launched at noon from the Ridgely Airpark to compete in this year's East Coast Hang Gliding Championship, which started June 3 and will run through June 9. The objective of the competition is to glide from Ridgely Airpark to the Massey Airport and back that day.
After the incident on Oakland Road cleared, Command established a Command Post at the Ridgely Airpark until Trooper 1 was able to finish their search and all gliders were accounted for. No other accidents or injuries were reported.
Photographs by : Bruce Secrist